Today is the day of Little Vintage Lover Fair's virtual vintage lover fair. It's a beautiful morning but very chilly so there are some advantages to a virtual fair; you can peruse vintage goodies without going out into the cold! We have chosen a selection of  frames for you to look at all of which have been added to the website.
I love the new half eye readers, Cary, they are in such vivid colours; perfect for the run up to Christmas. Sadly I am of the age where I am well into variofocals but I can dream..!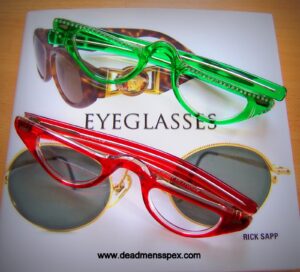 Among our selection is a fab geometric pair of 1970s sunnies, ideal for those bright winter days. You know how dazzling the low sun can be, especially on sparkly frosty mornings.  Speaking of winter I am very happy cos I can get my favourite furry dead cat hat out. It has already had a few airings this week, much to Dead Man's dismay. He is more of a knitted hat man in this weather and of course he has his beard to keep his chin warm.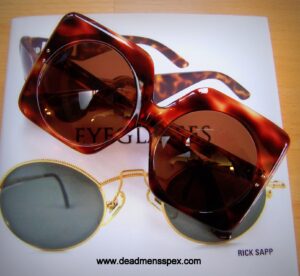 Wishing you a good week, Team Dead Man