Hello Merry Christmas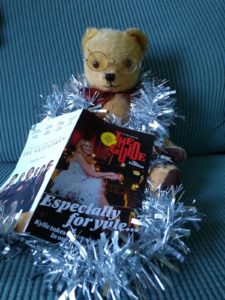 Uh oh! I hope Santa doesn't think I have been too naughty as I haven't blogged for a very long time. I'm happy to say that 2019 and has been good to us here at Dead Men's Towers. Looking over the year, a highlight for me was venturing up North to the Festival of Vintage at York Racecourse back in April.That was a fabulous weekend, the weather was awful but luckily we were inside and very busy. We met quite a few familiar faces and many new people too and had a ball. We have booked to go next year- keep 25th and 26th April 2020 free if you fancy coming to see us at this great event.
We also enjoyed selling our glasses at North Norfolk Railway 1940s weekend. This event is a regular one in the Dead Men's Spex calendar and it has the added advantage of being right on our doorstep in rural Norfolk. We were amazed when we added up the dates and realised that we first started selling there in 2008, so this was our 12th consecutive time! It has certainly grown since then, so has Dead Men's Spex and Dead Man Junior – we reserve judgement on me and Deadman!
As Christmas approaches, Deadman and I will be joining our elder statesmen Teddy – 'Dead Bear Growling' for some festive cheer. He is the same age as Deadman but has manged to retain his youthful good looks, he's not gone grey yet – unlike someone I could mention who has been cultivating a rather venerable beard.
Wishing you all a lovely Christmas and a happy New Year .
Thank you to you all for your continued support and custom.
Season's Greetings Mr and Mrs Deadman